DISA ENCORE III Small Business
Contract Number: HC102818D0035
MSI has been awarded the DISA ENCORE III SB Indefinite-Delivery/Indefinite-Quantity (ID/IQ) contract for ten-year contract, with a five-year base period and five one-year option periods. The maximum contract ceiling value of all contracts in this multiple award procurement is established at $17.5 billion dollars. This IDIQ supports Fixed Price (FP) and Cost-Reimbursement (CR) type task orders.
Performance Areas
Performance Area 1 – Enterprise IT Policy and Planning
Performance Area 2 – Integrated Solutions Management
Performance Area 3 – Process, Performance, and Strategic Benchmarking
Performance Area 4 – Business Process Reengineering (BPR)
Performance Area 5 – Requirements Analysis
Performance Area 6 – Market Research and Prototyping
Performance Area 7 – Information and Knowledge Management
Performance Area 8 – Custom Application Development
Performance Area 9 – Product Integration
Performance Area 10 – Test and Evaluation (T&E)
Performance Area 11 – Asset Management
Performance Area 12 – Network Support
Performance Area 13 – Cyber Security Assessment, Authorization, and Authorization
Performance Area 14 – Information Communications Technology
Performance Area 15 – Computer-Telephony Integration (CTI)
Performance Area 16 – Web Services
Performance Area 17 – Operations Support
Performance Area 18 – IT Support Services
Performance Area 19 – Cloud Professional Services
Phone: (703)-468-1245 | Ext: 554
---
One Acquisition Solution for Integrated Services Small Business (OASIS SB)
MSI is pleased to announce its selection as an award recipient for the GSA One Acquisition Solution for Integrated Services – Small Business (OASIS SB) for Pool 1. MSI was selected from among 186 Pool 1 applicants. The OASIS Small Business (SB) is a multiple award, Indefinite Delivery Indefinite Quantity (IDIQ) contracts that provide flexible and innovative solutions for complex professional services. These contracts:
Span many areas of expertise and mission spaces;
Span multiple professional service disciplines;
Allow flexibility for all contract types, including hybrids and cost-reimbursement, at the task order level; and
Allow ancillary support components, commonly referred to as Other Direct Costs (ODC), at the task order level.
OASIS SB is designed to address agencies' needs for a full range of service requirements that integrate multiple professional service disciplines and ancillary services/products with the flexibility for all contract types and pricing at the task order level.
The services to be provided under OASIS SB are intended to meet the professional service mission requirements of all Federal agencies, including all organizations within the Department of Defense (DoD) and National Security Community. For more information please visit the GSA OASIS Website.
Contract Number: GS00Q14OADS125
Core Disciplines:
Program Management Services
Management Consulting Services
Scientific Services
Engineering Services
Logistics Services
Financial Management Services
---
GSA Information Technology (IT) Schedule 70
Contract Number: GS-35F-352GA
Category:
132 51 – Information Technology Professional Services
132 56 – Health Information Technology Services
---
SeaPort-Next Generation (SeaPort-NxG)
Contract Number: N00178-19-D-8128
Sponsoring Agency: Naval Sea Systems Command
Contract Period of Performance: Jan 2019 – Jan 2029 (including award term options)
Available Order Types: CPFF, CPIF, CPAF, FFP, FPIF
For use by: NAVSEA, SPAWAR, NAVFAC; Office of Naval Research; Military Sealift Command and US Marine Corps
Professional services to be provided under MSI's SeaPort-NxG contract are categorized as:
Engineering Services
Engineering, System Engineering, and Safety and Process Engineering Support
Software Engineering, Development, Programming, and Network Support
In-Service Engineering, Fleet Introduction, Installation and Checkout and Provisioning Support
Measurement Facilities, Range, and Instrumentation Support
Interoperability, Test and Evaluation, Trials Support
Research and Development Support
Modeling, Simulation, Stimulation, and Analysis Support
Prototyping, Pre-Production, Model-making, and Fabrication Support
System Design Documentation and Technical Data Support
Reliability, Maintainability, and Availability (RM&A) Support
Inactivation and Disposal Support
Biochemical Engineering Support
Program Management Services
Financial Analysis and Budget Support
Quality Assurance (QA) Support
Functional and Direct Programmatic Administrative Support
Professional Development and Training Support
Analytical and Organizational Assessment Support
Database Administration
Public Affairs and Multimedia Support
Logistics Support
Configuration Management (CM) Support
Information System (IS) Development, Information Assurance (IA), and Information Technology (IT) Support
Computer Systems Analyst Support
Past Performance and Customer Satisfaction Point of Contact:
George Diaz | Email: gdiaz@missions2i.com | Phone: 571-285-0187
---
NetCents-2 Application Services, Small Business
The Network-Centric Solutions-2 (NETCENTS-2) contracts provide the Air Force with a primary source of netcentric and IT products, services, and solutions. NETCENTS-2 Application Services is a multiple award indefinite delivery, indefinite quantity (ID/IQ) contract with the US Air Force to provide Information Technology Services with ceiling value of $960 million. The NETCENTS-2 contracts are designed to meet challenges through the purposeful and dedicated use of innovative business practices that establish relationships between the Government and industry.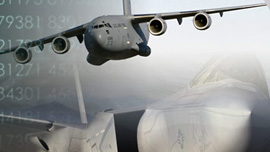 The NETCENTS-2 IDIQ contracts provide a wide range of IT Network-Centric and Telephony products, services and solutions covering the full spectrum of netcentric operations and missions. This includes existing legacy infrastructure, networks, systems, and operations as well as emerging requirements based on the Air Force Chief Information Officer's (CIO's) Service Oriented Architecture (SOA) construct. The contracts will provide Network-Centric Information Technology, Networking and Security, Voice, Video and Data Communications, and System Solutions Services to satisfy the Combat Support (CS), Command and Control (C2) and Intelligence Reconnaissance and Surveillance (ISR) Air Force and Department of Defense (DoD) requirements worldwide. These contracts provide users the capabilities to find, access, collaborate, fuse, display, manage and store information on the DoD Global Information Grid (GIG). Air Force sites may include commercial-off-the-shelf (COTS) National Security Systems (NSS), intelligence data handling equipment, C2 equipment, Local Area Networks (LAN), Wide Area Networks (WAN), secure and non-secure video, voice and data systems, and/or mission equipment. The equipment processes information of varying security classifications and may include sites that are Sensitive Compartmented Information Facilities (SCIFs).
NetCents-2 App Servc SB
Contract Number: FA8771-12-D-1006
Cage Code: 61L17
Size Status for this contract: Small Business
The authoritative source for detailed information on the NETCENTS-2 program can be found at the U.S. Air Force NETCENTS-2 site:
http://www.netcents.af.mil/contracts/netcents-2/index.asp
For more information, please feel free to contact us at netcents2@excellussolutions.com
News
Aug 2018: MSI is honored to be selected by the Defense Information System Agency (DISA) as a prime contractor to provide a wide range of information technology services to support DISA's mission including Enterprise IT Policy and Planning, Custom Application Development and Product Integration (ENCORE III).
Aug 2018: MSI JV has been awarded a contract to provide the Information Technology Sustainment Support services for AETC/A5T Legacy Information Systems (IS) at Randolph AFB TX.
July 2018: The Environmental Protection Agency (EPA) has selected MSI as one of the awardee vendor, Multi-Awarded IDIQ for five-year effort for a broad range of information technology (IT) and information management (IM) technical and professional services with emphasis on integrated program management support services and independent assessments and support (IAS) services under the Information Technology Solutions – Business Information Strategic Sourcing (ITS-BISS) III contract. MSI award on the ITS-BISS III contract covers Functional Area (FA) 2.
July 2018: MSI has been awarded to provide Civil Engineering AAS Services at 341st Civilian Engineer Squadron to perform engineering design and project management and real property records management at Malmstrom AFB, MT
June 2018: MSI JV has been awarded a contract to provide Information Technology Sustainment Services for the Air Education and Training Command (AETC) Technical Training Management System (TTMS) at Randolph AFB TX. The support services includes system hardware and software maintenance and upgrades, system enhancements, customer support, and security accreditation for the TTMS suite of applications. TTMS offers multiple services to multiple Mission Partners as part of the Information Technology Service Provider (ITSP) managed at AETC, JBSA-R.
May 2018: MSI has been awarded to support the 14th Air Force Forces (AFFOR) Communications Control Center (ACCC) in supplying cyberspace security assurance and cyberspace orders compliance and tracking for space mission system networks and MAJCOM space wing networks, as well as inform command and control decisions for 14 AF to direct Air Force Information Network (AFIN) and defensive cyberspace operations (DCO) for Air Force Space Command (AFSPC) assigned mission systems.
May 2018: MSI has been awarded to support the HAF/A8P/A8X to provide the IT training course for planners, programmers and budgeters to use designated IT solutions required for PPBE activities, including Automated Budget Information Data Environment System (ABIDES), Resource Allocation Program Information Decision System (RAPIDS), and the long range planning database.
May 2018: MSI has been awarded to provide the CG-9 Executive Support Services for the U.S. Coast Guard (USCG). The support services including audit coordination and query response support on behalf of CG-9 including; process coordination, research, tracking, reporting and administrative support of deliverables and queries from internal and external stakeholders.
May 2018: MSI JV has been awarded a contract to provide Windows Exploitation (WEA) Training services.
May 2018: MSI JV has been awarded a contract to provide Cisco UCS Manager v3.0 Training services.
May 2018: MSI JV has been awarded a contract to provide Active Directory 2012 Server Training services.
Apr 2018: MSI JV has been awarded a contract to provide Citrix Xen App 6.5, 7.6 Training services.
Apr 2018: MSI JV has been awarded a contract to provide VMWare vSphere v5.1, v6.0 Training services.
Apr 2018: MSI JV has been awarded a contract to provide Cisco Nexus 9000 NXOS Training services.
Apr 2018: MSI has been awarded to provide Electronic Forms Management and Technical Solutions Services for the Customs and Border Protection (CBP) Forms Program that includes Business Process Re-engineering, requirements definition and analysis, forms design, testing, quality assurance and validation, implementation, training, configuration management, and project and process management. Ongoing support includes help desk support, reporting form lifecycle, and working with the application vendor for system maintenance support as required.
Feb 2018: MSI has been awarded contract to provide IT Support Services for the Air Force Research Laboratory (AFRL).
Dec 2017: The Defense Information Technology Contracting Organization (DITCO) has selected MSI as one of the awardee vendor for $350 Million, Multi-Awarded BPA Contract to provide the Professional Support Services i.e., DISA Agency Program Support (APS) to meet the needs of the entire Agency. These services will support programs, projects, and initiatives in the DISA portfolio and are as follows: Acquisition and Contract Management Support; Asset Management Support; Continuity Management Support; Directorate Security Support; Financial Management Support; Information Resources Support and Program Management Support.
May 2017 Mission Services LLC (MSI) awarded contract to provide Business Operation Support Services to the Naval History and Heritage Command (NHHC).
Apr 2017 MSI adds Executive to its Leadership ranks
MSI has grown its executive team with the appointment of Steve Denelsbeck, as Vice President and Head of the Mission Support Services (Intelligence) business unit.

Special Operations Command (75th Ranger Regiment) and has earned a BA from the University of Massachusetts at Boston.
Apr 2017 Mission Services (MSI) awarded five-year GSA IT Schedule 70 Contract under the category 132 51 and 132 56.
Nov 2016 MSI JV awarded contracts to Provide Defensive Cyber System Engineering Services (DCSE) to 24th AF Cyber Systems Division at San Antonio.
Sep 2016 MSI JV awarded contracts to provide Enterprise Environmental Safety and Occupational Health-Management Information System support.
Sep 2016 MSI JV awarded contracts to provide Personnel Services Delivery Transformation Support and Integration (PSDT) Services to Total Forces.
Sep 2016 MSI JV awarded contracts to provide AFOTEC Mission Applications Suite (AMAS) Developer Support Services.
Aug 2016 MSI JV awarded contracts to provide support to develop, update, and maintain 316 TRS IMI training products at Goodfellow AFB.
July 2016 MSI JV awarded contracts to provide system sustainment, preventative maintenance, IA support to include documentation and engineering analysis the Interim CONR Forensics System (ICFS).
July 2016 MSI JV awarded contracts to provide Cisco UCS Manager v2.1.3 Training.
May 2016 MSI JV awarded contracts to provide Application Development & Support (ADS) to the ANG and Air National Guard Readiness Center (ANGRC).
May 2016 MSI JV awarded contracts to provide sustainment support of the Information and Resource Support System (IRSS).
May 2016 MSI JV awarded contracts to provide Procurement of Microsoft (MS) Windows Server 2008 R2 Training, via Mobile Training Team for the Air Operations Center Weapons System (AOC-WS).
Apr 2016 MSI JV awarded contracts to provide System Sustainment Support and Modernization of DoDMERB at Schriever AFB.
Jan 2016 MSI JV awarded contracts to provide MY SQL RDBMS V12.1 training.
Nov 2015: MSI JV awarded contracts to provide MS Forefront Gateway training services.
Nov 2015: MSI JV awarded contracts to provide Postgre (SQL) v9.2.3 training support.
Nov 2015: MSI JV awarded contracts to provide Red Hat Enterprise Linux (RHEL) v5.8 training services.
Sep 2015: MSI JV has won the contract with AFLCMC/HBBA AOC WS for Engineering Maintenance Support and Modernization of Radio Systems and Modernization of Radio Distribution System (RDS).
Sep 2015: MSI JV awarded a 5 year contract of Remote Manifesting Resolution Center Support (RMRC) with Scott AFB IL.
June 2015: MSI JV awarded contract to provide Cisco UCS Manager Training at CONUS and OCONUS.
June 2015: MSI JV awarded contract to provide Solaris v10 Part I&II Admin Training support.
Apr 2015: MSI JV awarded contract to provide COTS Oracle 11g Training services.
Apr 2015: MSI JV awarded contract to provide MS Exchange Server 2007 Training.
Apr 2015: MSI JV awarded contract to provide JABBER XCP v5.4 Training services.
Sep 2014: MSI JV won contract for Department of Defense Medical Evaluation Review Board (DoDMERB) Modernization at Defense Medical Accessions Computer System, Schreiver AFB
Sep 2014: MSI JV won the contract with the 45th Space Wing AF SPC for EZQUERY Internet Intranet Website and Database Application Development Services.
Sep 2014: MSI JV awarded the contract to provide CISCO UCS training support services.
Sep 2014: MSI JV provides FlexPod training support at multiple locations.
Sep 2014: MSI JV awarded contract for Citrix training support.
Sep 2014: MSI JV awarded contract to provides VmWare training support at various locations across the nation.
Aug 2014: MSI JV awarded a contract by Air Force Material Command (AFMC) for Integrated Tactical Warning and Attack Assessment Integrator technical support.
July 2014: MSI JV to Provide Subject Matter Expertise for 17 Air Force HIAR/HIAM Programs.
MSI JV awarded a contract to provide subject matter expertise for 17 programs within the Air Force Life Cycle Management Center (AFLCMC) HIAR and HIAM program management offices for Wright-Patterson Air Force Base. MSI JV will provide functional and technical subject matter expertise to gather and analyze requirements to solve user problems and achieve program goals. The team will work closely with the customer and other teams to design, develop, analyze, test, and maintain program software and databases. Excellus will also support strategic planning and business analysis across the enterprise to help the PMOs meet program needs.
June 2014: MSI JV awarded contract to provide PK 1384 OSF Cisco UCS Training AOC services.
June 2014: MSI JV awarded contract to provide CISCO Nexus Training services.
June 2014: MSI JV awarded contract to provide FlexPod Training services.
June 2014: MSI JV awarded contract to provide Microsoft System Server 2008 Training services.
June 2014: MSI JV awarded contract to provide PK 1370 CISCO NEXUS 5000 Training services.
June 2014: MSI JV awarded contract to provide CISCO UCS Training services.
May 2014: MSI JV awarded contract to provide CISCO Secure ACS Training services.
May 2014: MSI JV awarded contract to provide SolarWinds NPM/NCM Training services.
May 2014: MSI JV awarded contract to provide Oracle Administration Training services.
May 2014: MSI JV awarded contract to provide MS SCCM Training services.
May 2014: MSI JV awarded contract to provide CITRIX XenApp Training services.
May 2014: MSI JV awarded contract to provide CISCO Nexus 5000 Training services.
Apr 2014: MSI JV awarded a contract by AFLCMC/HIAR for Weapon System Management Information System Operations and Maintenance (WSMIS).
Apr 2014: MSI JV won contract for Department of Defense Medical Evaluation Review Board (DoDMERB) System Sustainment Services at Schreiver AFB.
Apr 2014: MSI JV won contract by the Department of Defense Joint Warfare Analysis Center for IT Services.
Jan 2014: MSI JV awarded a contract by the 57 WG AP (Advanced Programs) Office of Nellis Air Force Base for IT Support Services.
Nov 2013: MSI JV won Integrated Logistics Support (ILS) contract from Scott AFB IL.
June 2013: MSI JV awarded a contract of AFLCMC Theater Medical Information Program Air Force (TMIP-AF)